How to Evaluate a Classic Car's Condition
Whether you're buying or selling, evaluating a classic car's condition is important to the process.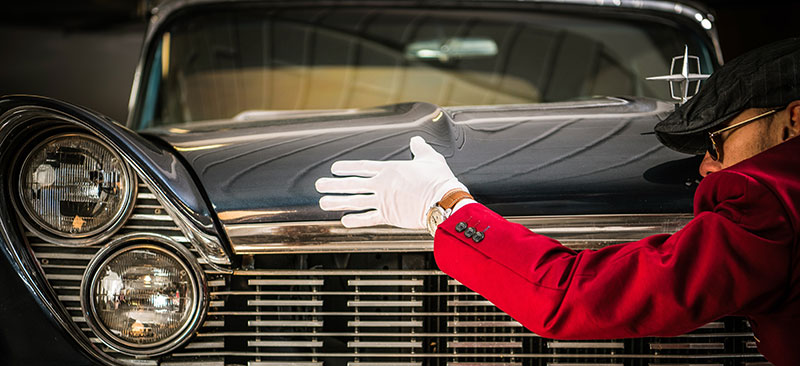 Don't know where you should start? Our guide suggests you evaluate a few different important areas. If you still don't think you know enough to properly evaluate a car's condition, you might want to hire an inspector to do the job for you. Keep in mind that we're talking here about the condition of "regular" cars and trucks that make up the bulk of ClassicCars.com's catalog, not that of concours or show cars.
Mechanical Condition
Just as with late-model pre-owned vehicles, mechanical condition is a big deal, but at a whole different level. A good place to start is whether the car is in safe driving condition. If it isn't, then the question is whether the car is either restorable or a parts car.
A classic in good running condition with the original drivetrain (i.e., engine, transmission and rear end) is favorable. It's less favorable if one or more of the three are replaced. If they are replaced, note whether the components have been replaced with original factory parts, factory replacement parts from a third party, or with components made for a different vehicle altogether. Note that an engine that has been rebuilt using original factory (also known as OEM) parts to original factory specifications should be considered an original engine.
Beyond the drivetrain, many components are meant to be replaced periodically, so consider the presence of replacement parts as a good thing. After all, each replacement part (that doesn't itself require replacement) is just one less part for the new owner to buy. As with the major drivetrain components, OEM replacement parts are often preferable to non-OEM.
Check the operation of all factory-equipped option. Examples include air conditioning, turbo charger, power assists, convertible tops, radio, and so on. Having all the factory-equipped options working enhances a car's condition.
Check for leaks anywhere fluids are present. Head gaskets, the rear main seal, the power steering system, brake lines, the water pump, radiator, all hoses, transmission, fuel system and gas tank—each tells its own story, and any leaks, even if they are minor, carry a potential cost. The fewer there are, the better the condition. For most classics, some minor leaks are expected.
Any blue smoke coming out the tailpipe could indicate an internal leak that is expensive to repair. Blue smoke often indicates serious problems with pistons, valves or perhaps even the engine block itself. If it's coming from a relatively recent classic car, such as a muscle car or a vehicle of that era, it can be a significant issue. If you see blue smoke coming from a very old car, such as a 1930 Ford Model A, it might not indicate as much a problem, as these old cars often leaked internally, even when new.
Exterior Condition
Assessing the quality of a classic car's exterior can depend on how original the body panels, bumpers, grille, badging, lights and other components are. An "all original" classic is viewed more favorably than one that is "fully restored." Vehicles with their original exterior components intact generally indicate proper sheltering, a mild climate, regular maintenance, or a combination of the three.
Qualities that define an exterior in good condition include properly aligned body panels, matching chrome trim that's not pitted, and body panels free of filler, dents or dings. The side mirror(s) should be secure. All badges and ornamentation should be original and free of bubbling paint in their immediate vicinity.
Speaking of paint, its evaluation is rather subjective. Some people insist on the OEM color, while others love custom paint. Either way, thin spots, scratches, peeling, drips or heavy oxidation can detract from the condition.
The biggest showstopper, of course, is rust. Minor surface rust on the undercarriage is inevitable, but any deep rust on body panels means that the affected panels will need to be replaced
Interior Condition
Whether original or restored, the closer to "like new" condition, the better. Scuffs happen, so don't worry about reasonable wear and tear. Conditions that make a difference in terms of a car's overall condition include rips in the upholstery or headliner; thin, torn or worn carpeting, and a cracked or misaligned dash. As far as knobs, buttons and switches go, if it's inside the car, it should be operable, mechanically and electrically. Windows, heater, air conditioning, interior lights, power seats, radio should all operate.
Electrical Condition
One of the more bedeviling trouble spots in classic cars involves the electrical system. The older the car, the less likely electrical problems are an issue, since there are few components and wiring is straightforward. Test the horn, lights, turn signals, fan, radio and dashboard gauges. The starter motor should turn the engine over easily and without hesitation. Check for frayed or exposed wires.
Paperwork
Evaluating a car's condition is often done for purposes of buying or selling, so an evaluation of the vehicle's paperwork should be part of the process. Are all the car's service records since new available? That's a big plus if they document a timely and professional maintenance history. Does the vehicle have a clean and clear title? A good title won't add value, but the lack of one can certainly detract value.
Overall, even if a classic car is showing wear, it can still be considered in good condition if everything works, if the drivetrain is original and if there are no major cosmetic issues inside or out (and few minor ones). Such a vehicle is safe to drive, looks good, and should last a while before the new owner (whether that's you or someone else) would have to effect repairs.